Best Views Of Honolulu Skyline
My #1 Pick for a Scenic View of Honolulu
Without a doubt, the best view of the Honolulu city-scape would be from the Puu Ualakaa State Wayside park area up Round Top Drive.  The park is a popular destination for locals looking for a getaway picnic site without having to go too far.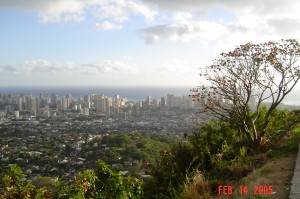 Map to Puu Ualakaa State Wayside Park
There is also a roadside pullout area, just below Puu Ualakaa State Wayside park, that overlooks Manoa Valley and the University of  Hawaii campus along the way.  The map has this spot marked as well.  This is a good spot to view the city lights from since the park closes at dusk.  The view is not as spectacular because the hillside permits viewing east only and blocks 2/3rds of the city.
An added bonus of this location at night is the hillside opposite the viewing area.  There are hundreds of Night-Blooming Cereus plants clinging to the rocks and, as the name implies, they only blossom at night.  The whole side of the hill is covered in these beautiful flowers.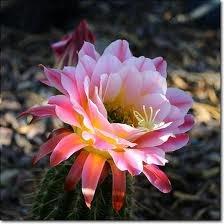 My #2 Pick for a Scenic View of Honolulu
A second choice would be the view from the Punchbowl National Cemetery lookout, located beyond the gravesites.  Its vantage point is a little lower than Puu Ualakaa State Wayside park area, but its also much easier to get to.
Map to Punchbowl National Cemetary
Once you're on Pensacola Street, there will be signs directing you to Punchbowl Cemetery.
Don't forget to take your camera!