Latest Fee at Akaka Falls State Park 12-20-2010
Akaka Falls Entry Fee
The latest fee resulting from the economic hard times is the Department of Natural Resources' new $5 per car entry fee at Akaka Falls State Park on the Big Island (higher rates apply to commercial tours and buses).  So, yet another free attraction will now generate some badly needed revenue from visitors to the state.
For those who may not be familiar, Akaka Falls is located a few miles north of Hilo, off of Highway 19 between Honomu and Hakalau.  Also in the area is the often overlooked, Hawaii Tropical Botanical Gardens at Onomea Bay.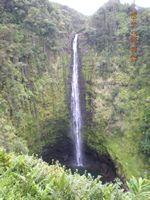 So far, Rainbow Falls outside of Hilo has been kept off the list of places sporting this $5 parking fee being charged at more and more sites.  Just another sign of the economic hardships that have befallen the state budget.  The good thing about it is that the state legislature has at least deemed it unnecessary, not to mention politically correct, to not extend this fee to state residents.  Hawaii residents, who must show their id, are exempt from this new fee.
Pali Lookout, Oahu, too!
Earlier this year, the Pali Lookout had a parking fee added to non-resident visitors on Oahu.  I guess this is just a sign of things to come.  Unfortunately, as with just about all "new" fees, even a return to better economic times are unlikely to see the end to these latest revenue sources.
Anyone care to guess what will be next?  Can you foresee parking meters at the beach parks?  Many municipalities on the mainland already charge parking at popular beach locations.  Then, again, virtually all of the states bordering the east coast also require a saltwater fishing license, in addition to separate freshwater fishing licenses.  And, it wasn't any more popular there than it would be to start charging such a fee in Hawaii.
Let's hope it never gets to that point.  Its hard enough to find anything you can do for free in the islands, without having to pay for beach related activities.  For now, tourists will have to pay this additional fee to enjoy Akaka Falls, one of the many natural resources that make Hawaii the popular destination it is.
Is it worth it?  If you love rain forests and waterfalls…absolutely!  While I'm not a big fan of this new fee, I would not be deterred by it either.  I'm not sure whether its seeing Akaka Falls itself or the walk through the giant bamboo and other trees that line the walkway, but its always relaxing and refreshing to do so.