Hiking in Hawaii
Hiking in Paradise
While most people planning a trip to Hawaii have visions of beaches and palm trees, for the outdoor-oriented individuals, Hawaii also offers a surprising number of hiking opportunities.  Trails and challenges run the gamut from short paths to scenic views of waterfalls or seascapes to challenging hikes that include a change of altitude of several thousand feet.  You will find hiking in Hawaii can include desert-like weather conditions to alpine-cold and everything in between.  So, if you are planning on doing some hiking in paradise, make sure you come properly prepared.
Hiking Kauai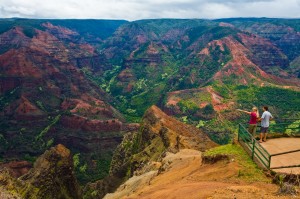 At once the oldest island with the most beaches per coastal mile of the major islands, Kauai also offers the most hiking trails of all the islands.  The top two topographical attractions that invite hiking to get the most out of them are Waimea Canyon and the NaPali Seacliffs on the northwest coastline.  I have found a great blog that offers you information on many of the hundreds of hiking trails available for every level of fitness, at Kauai.com.
Hiking Oahu
While people tend to think of Honolulu and Waikiki when they think about Oahu, there are also dozens of trails that invite the outdoor activists to take.  Many of these trails are surprisingly accessible to those who are staying in Waikiki  with only a few hours to spare.  A good site to check out these trails is
oahuhiking.com
.
Of course, the one "hike" that many are familiar with is the climb to the top of Diamond Head with its awaiting panoramic view of Waikiki and Honolulu beyond.  Just a couple of miles from the edge of hotel row, the stairways involved in making this ascent make this a more challenging hike than you might expect.
Hiking Maui
As you might expect, many of the most popular hiking trails on Maui are centered on Haleakala Crater, but there are also a number of other trails that range from half of a mile to 7 miles long.
Of course, you can also contact the Haleakala National Park to get information about overnight camping at cabins within the park.  Trails within the park run 8.3 to 10 miles and require proper dress and shoes for the rocky terrain and elevation, with nighttime temperatures easily dipping near or below the 40F/7C mark.
Hiking Lanai and Molokai
The most challenging hike on Lanai is the Munro Trail, which is not promoted as a hike, but for 4-wheel drive drives.  The advantage of hiking versus driving the trail is that you are less concerned about the driving conditions.  The muddy road can be very slick after rains and can make driving, even in a 4-wheel drive vehicle, tricky and not recommended.  But, you can still hike it.   A much shorter (15-20 minutes), and easier, hike with a beautiful pay-off, head southeast from Hulopoe Bay to the cliffs overlooking Puu Pehe, or Sweetheart Rock.
And, in between these two extremes are a number of additional trails that offer a variety of challenges and rewards.  I brief review of a few of these trails are covered by the vacation gals at their website.
Molokai
Among the several trails that will challenge even experienced hikers is a hike down the 3000′ high seacliffs along the northern coast, east of Kaunakakai.   Molokai does not offer the numbers or variety of hiking venues the other islands do, but there are a couple of notable hikes.  Unfortunately, some of them require you to join a paid outing to gain access.  This is an issue that is becoming more and more common in Hawaii due to mishaps or mis-use by a handful of visitors.
Hiking Hawaii  (The Big Island)
Not surprisingly, some of the most notable trails on the Big Island are located within the boundaries of the Hawaii Volcanoes National Park.  However, as you might also expect, there are numerous trails that cover a wide range of terrain on this large and sparsely populated island.  You can go from short walks to view beautiful waterfalls, relatively short seashore hikes to a green sand beach, or overnight camping near the 10,000′ level of Mauna Loa (reservations required thru the Hawaii Volcanoes National Park).
Also on the Big Island is the only National Trail in Hawaii, Ala Kahakai National Historic Trail on the Big Island of Hawaii.  This 175-mile trail runs from near the northern tip of the island, along the coast of Kona, around Ka Lae (South Point) and then back up along the coast till it reaches the border of the Hawaii Volcanoes National Park.  Fortunately, similar to the Appalachian Trail of the Smoky Mountains, you can experience this hike in sections and not attempt to traverse the entire length.
Hiking From Easy to Difficult
So, there you have it, hiking opportunities for every fitness and experience levels.  It may involve walking paved walkways such as you will find at Iao Needle, Maui or Akaka Falls, Big Island.  Or, it may involve more strenuous backpacking and overnight camping such as you might experience on the Kalaulau Trail on Kauai, Haleakala Crater on Maui, or the Volcanoes National Park on the Big Island.
Some hikes will require you to make reservations in advance, while others insist you register on a first-come, first-serve priority basis the day of your hike.  Some hiking will involve paying, whether as part of an organized group or as a state park fee, while most are free trails accessible to all.  Whatever venue you choose to satisfy your desire to hit the trail, I'm pretty sure hiking in Hawaii will not disappoint you.
Top Hiking Trails
Hawaii Magazine recently published a list of their readers' Top 5 Hiking trails in Hawaii.   If you're interested in re-visiting your memories of Hawaii, a one-year subscription is just $20.  You can even get an electronic magazine subscription for just $10/yr.!
Incoming search terms:
hiking in hawaii
Kauai hiking trails